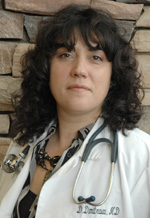 Dr. Dessislava Dimitrova is board certified in internal medicine and board eligible in sleep medicine. She earned her medical degree (MD) and doctorate (PhD) in immunology from Medical University of Sofia, Bulgaria. She received her residency training in internal medicine and fellowship training in sleep medicine from Capital Health and research fellowship training in immunoncology and immunovirology from Hahnemann and Temple University in Philadelphia, PA.
She is a member of the American Medical Association and the New York Academy of Science and a fellow of the American College of Physicians. She is author and co-author of more than 20 publications in well recognized scientific journals. She is fluent in Bulgarian.
Click here to schedule an online appointment with Dr. Dimitrova.
Click here for a list of accepted insurances at Capital Health's Center for Sleep Medicine.