Stroke is the fifth leading cause of death in the U.S. and a leading cause of adult disability. For anyone who is having a stroke, every minute matters and decreasing time to diagnosis and treatment is critical for a person's outcome. As part of our commitment to being at the forefront of advancing stroke care and neurosciences in the region, Capital Health launched the Mobile Stroke Unit (MSU) in January 2017. It is the first unit of its kind in New Jersey, Pennsylvania, or the Delaware Valley and only the second on the East Coast. When it first launched, Capital Health's MSU was one of just seven such units in service in the United States.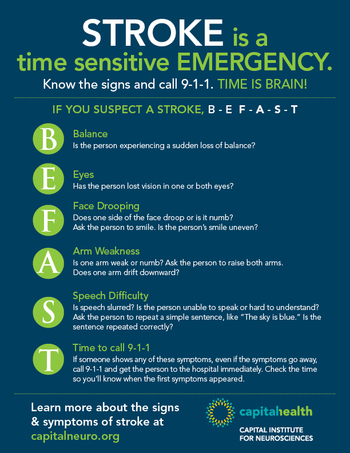 Serving the entire Mercer County area seven days a week (from 7 a.m. to 11 p.m., when more than 90 percent of stroke dispatches occur), our MSU is designed to bring time-critical stroke care to patients at their home or wherever it is sent to assess them. When a 911 call is received for symptoms that suggest a patient is having a stroke, the MSU is co-dispatched with basic and advanced life support services.
The Mobile Stroke Unit features:
A CT scanner
Point-of-care laboratory testing
A specialized team, including a paramedic, critical care nurse, and CT technologist
Once on scene, the unit and its team conduct critical assessments and work with stroke specialists, neuroradiologists, and emergency room physicians at Capital Health to diagnose and treat patients in the field who are having an acute ischemic stroke. After patients are on board, they are taken to the most appropriate stroke center—one of the primary stroke centers in the region or the comprehensive stroke center at Capital Health Regional Medical Center—which saves time and, more importantly, lives. This unit is available to residents of Mercer County and any patient coming to any of the Mercer County hospitals that are exhibiting signs or symptoms of a stroke.
Capital Health Regional Medical Center is accredited by The Joint Commission as an Advanced Comprehensive Stroke Center, meaning it meets national standards that are applied to all hospitals. As one of only eight such hospitals in New Jersey and given its close proximity to Pennsylvania, Capital Health Regional Medical Center serves patients in New Jersey and Eastern Pennsylvania who require the most advanced treatments for neurovascular and stroke care, including neuroendovascular neurosurgical and stroke services. Our comprehensive stroke center at Capital Health Regional Medical Center is part of our Capital Institute for Neurosciences.
Stroke Symptoms are a Medical Emergency. Call 911.
If you, or someone else, experience any of the symptoms of a stroke – do not wait. Call 911 immediately. Treatment can be effective if given quickly. Remember- every minute counts.