Our Infusion Center provides intravenous or injectable treatments to patients on an outpatient (same-day) basis. This beautifully adorned center, located in the Cancer Center at Capital Health Medical Center – Hopewell, offers views of a unique rooftop healing garden.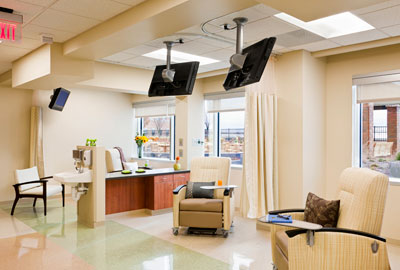 The Infusion Center is able to treat patients needing: 
Chemotherapy 
Antibiotic Therapy 
Blood and blood product transfusion 
Therapeutic phlebotomies 
Fluids 
Monthly maintenance of infusion ports
The infusion room is also able to treat patients for: 
Osteoporosis 
Rheumatoid arthritis 
Iron deficiency 
Hemophilia 
Hormone deficiency
Our Infusion Center is staffed by nurses, certified to administer chemotherapy by the Oncology Nursing Society. Our nurses are extremely experienced and clinically competent to attend to a large variety of diagnoses and patient issues.
All patients being treated by a Capital Health licensed provider are welcome to make an appointment for treatment at the infusion room. The Infusion Center is open Monday – Friday (7 a.m. – 5 p.m.) and on the weekend for patients receiving antibiotics. For information about the Infusion Center, please call us at 609-537-7226.