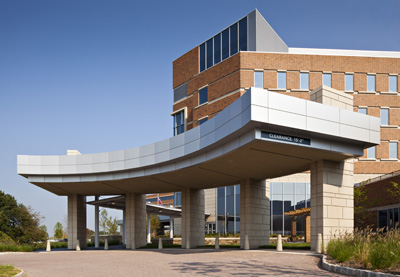 Cancer is a life altering illness. It can create physical, emotional, and social challenges for patients and their loved ones. That's why at the Capital Health Cancer Center, we provide advanced treatment options and highly skilled physicians while also establishing an individualized plan of care for each patient. We're there for you, if you require advanced diagnostic and treatment services or if you simply need understanding, warmth and support.
The Capital Health Cancer Center is a state-of-the-art, two-story (approximately 60,000 sq. foot) facility that is connected to the Capital Health Medical Center – Hopewell. The center combines our vast oncology medical expertise with advanced technology. The Center was designed to promote healing and comfort for patients and caregivers. Once you arrive at the Center, park in our specially designated parking lot (Parking Lot C) and walk through our beautiful, garden-like entrance. Once inside, you will be greeted at the oncology information desk and guided to the registration area. For your convenience, our Oasis Salon & Wellness Spa (including the Just for You Center, a suite geared to the needs of the oncology patient) is located near the oncology information desk. In addition, many of our physicians have offices located in the same building above the Center, making it easy to schedule your doctors' visits and treatments in one location. When the weather is nice, you can find respite on our beautifully landscaped rooftop garden, located on the second floor next to our infusion suite. From inside the suite, you can look out at this same magnificent garden which will inspire you to relax while in a healing environment.
Capital Health Cancer Center has consistently offered patients a closely integrated team of medical, surgical, radiation, and allied cancer specialists who use their knowledge and experience to provide cutting-edge cancer treatment close to home.