Chief, Cytopathology and Microbiology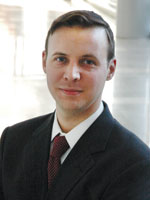 Dr. Krister Jones is board certified in anatomic and clinical pathology and earned his medical degree at Drexel University College of Medicine. His post-graduate training included a residency in Pennsylvania Hospital's Department of Pathology, where he also served as Chief Resident. He completed his fellowship training in cytopathology at Thomas Jefferson University Hospital in Philadelphia and is also fellowship trained in dermatopathology from Drexel University/Hahnemann University Hospital.
Prior to joining Capital Health, Dr. Jones was an instructor at Drexel University College of Medicine and University of Pennsylvania Medical School. He has presented and published peer-reviewed research covering a range of topics including dermatopathology, cytology, and chronic inflammatory diseases. Dr. Jones is also a member of many professional societies and associations, including the United States and Canadian Academy of Pathology, the American Society of Dermatopathology, the College of American Pathologists, and the American Society for Clinical Pathology.