Chief, Neuropathology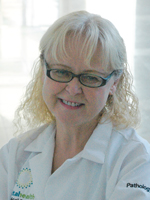 Dr. Irina Mikolaenko is board certified in anatomical and clinical pathology and neuropathology and completed her residency in clinical and anatomical pathology at University of Alabama at Birmingham Hospital and the Birmingham Veterans Affairs Medical Center. Dr. Mikolaenko received her fellowship training in neuropathology at Johns Hopkins School of Medicine and Harvard Medical School.
Prior to joining Capital Health, Dr. Mikolaneko was a staff pathologist at St. Francis Hospital-Barlett in Tennessee and served as an assistant professor in pathology at NYU, Case Western Reserve University, and Virginia Commonwealth University. She has also held teaching positions at Johns Hopkins School of Medicine, Brigham and Womens Hospital, Children's Hospital Boston, and Harvard Medical School.
Dr. Mikolaneko has presented and published research on tumors of the brain and nervous system, Alzheimer's and Parkinson's disease, and the pathogenesis of epilepsy. She is a member of the Johns Hopkins Medical and Surgical Association, the American Association of Neuropathologists, and the American Academy of Neurology.