Christian Hong, MDiv, LCSW, OSW-C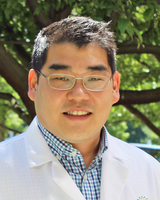 Christian is an oncology-certified clinical social worker providing diversified psychosocial support and services to cancer patients and their families throughout the continuum of care – diagnosis, treatment, and survivorship. As part of our multidisciplinary team, Christian holistically assesses patients to identify each patient's unique needs. He provides general supportive counseling as well as directed psychotherapy to empower patients and maximize their quality of life. Christian also coordinates with other navigators and community resources to provide care coordination and guidance so that the right kind of help can be found at the right time.
Prior to joining the Capital Health team, Christian was the Director of Pastoral and Palliative Care at a specialized non-profit skilled nursing facility for the HIV population. His experience includes both inpatient and outpatient psychotherapy as well as psychiatric and medical case management. Christian received his Master of Social Work from Rutgers University and his Master of Divinity from Princeton Theological Seminary.