Trish Tatrai RN, MS, OCN, CBCN
Manager, Oncology Support Services/Breast Navigator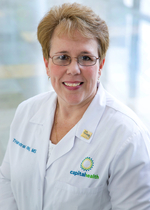 Trish is a Breast Cancer Navigator at Capital Health Cancer Center where she is responsible for developing and sustaining a comprehensive, evidence-based nursing professional practice model for the oncology nursing practice and breast patients of the Cancer Center and of the Center for Comprehensive Breast Care. She manages several specialty and oncology navigators at Capital Health. The Oncology Nursing Society has certified Trish in Oncology and also as a Certified Breast Cancer Navigator.
Throughout her 30+ year career, Trish has held numerous positions providing breast cancer care and education, including the Women's Breast Center and community outreach programs. As a breast cancer nurse navigator, Trish assists patients and families throughout the cancer journey by coordinating care with all members of the patient's multidisciplinary health care team, assessing medical care and resources, providing education and emotional support. She also leads Capital Health's Breast Cancer Survivors Support Groups.
She is a member of the Academy of Oncology Nurse & Patient Navigators (AONN+) and was recently named one of nine navigators in the U.S. to participate in a national study evaluating the ability and reliability of navigation metrics to create national standards for use by all organizations to demonstrate the efficacy and sustainability of the navigation programs.
She served as past chair of the Oncology Nursing Society's Certified Breast Cancer Nurse CBCN® Test Development Committee, providing expert leadership in the development certification tests.
Trish received her nursing diploma from the Helene Fuld School of Nursing, Bachelor of Science in Nursing degree from Thomas Edison State College and master's degree from Rutgers University. She rejoined Capital Health in 2010.
Aileen Diccion, RN
Breast Health Nurse Navigator
Aileen Diccion, Breast Health Nurse Navigator, has been with Capital Health since 2017. At the Capital Health Cancer Center, she assists patients and families throughout their cancer journey facilitating care and communication with all members of the patient's multi-disciplinary health care team, assisting patients navigate the health care system, providing education, and coordinating support services and resources for patients. Previously, Aileen was a nurse with Capital Health's Center for Comprehensive Breast Care, where she supported surgeons and helped patients in the treatment of various breast issues (benign and cancerous) including coordinating patient pre- and post-surgery care and provided support to patients and their families. She began her medical career at Morristown Medical Center as a registered nurse in on the surgical/trauma unit. Aileen earned her Bachelor of Science in Nursing (BSN) at Seton Hall University.
Kristy Frascella, RN
GI Oncology Nurse Navigator
Kristy joined Capital Health's Cancer Center as a gastrointestinal (GI) oncology nurse navigator specializing in hepato-biliary-pancreatic and colorectal cancers. Throughout her career, she has committed to providing high-quality patient care drawing on her experience in therapeutic communications, active listening, patient and family education to help patients on their path to restored health. She has a strong background in behavioral health where she worked as a part of the multidisciplinary team for patients facing an array of acute and chronic conditions. She also provided these patients with nursing and counseling services on both an outpatient and inpatient basis. Kristy started her nursing career on a medical oncology/surgical floor. She earned her Bachelor of Science degree in Nursing (BSN) at The College of New Jersey.
Emily Parisi RN, BSN
GYN/Oncology Nurse Navigator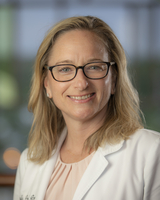 Emily is a GYN Oncology Nurse Navigator at Capital Health's Cancer Center. She provides patients specialized care throughout all phases of their cancer journey — from diagnosis, throughout treatment, to survivorship. She serves as the primary communicator between the patient and their multidisciplinary team, educates patients and their families about diseases and treatments, translates medical terminology, and facilitates patient treatment plans. Emily leverages a vast network of community and support resources to help patients overcome health care barriers to ensure optimal outcomes.
Before joining Capital Health, Emily specialized in gynecology and women's health at private medical practices for more than ten years. Emily achieved her nursing degree from Our Lady of Lourdes School of Nursing and a Bachelor of Science in Nursing (BSN) from Aspen University.
Ashley Vellucci, BSN, RN-BC, CURN
Urologic Oncology Nurse Navigator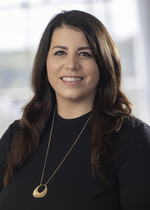 Ashley Vellucci, Urologic Oncology Nurse Navigator, joined Capital Health in 2019. Working at Capital Health Urology Specialists in Pennington, NJ, Ashley provides cancer specific clinical education which focuses on the bladder, prostate, kidneys, and testicles. She also connects patients with supportive resources available throughout the community. Ashley delivers individualized assistance to patients, families, and caregivers to help overcome the many healthcare system barriers that we face today. The stages of a cancer treatment plan from initial diagnosis of cancer, to cancer treatment, and ultimately survivorship is challenging both physically and emotionally. Communication is key in providing the best possible care throughout the process. Through active listening and proactive therapeutic communication, Ashley assists in bridging the gap of communication that can often occur between patients and the multidisciplinary team.
Ashley began her nursing career at the bedside as an oncology nurse at Robert Wood Johnson University Hospital Somerset, formerly known as Somerset Medical Center. It was here that she quickly gained experience and recognition for her passion of providing quality-based care for her patients. She also has experience as a nurse trainer for a top 5 healthcare insurance company and as a unit manager of a long-term care facility. Her diversified experience in healthcare has made her an excellent liaison between the care team, insurance providers, and the patient. She received her Bachelors of Science in Nursing (BSN) at Kean University in Union, NJ and holds a certification in Medical-Surgical and Urologic nursing.