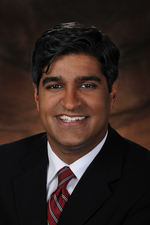 Dr. John A. Abraham is the founder of the Orthopaedic Oncology Service at Rothman Orthopaedic Institute. He is a nationally recognized orthopaedic oncology surgeon and has 15 years of experience in dealing with bone and soft tissue sarcomas and metastatic cancer to the skeleton.
Dr. Abraham graduated Magna cum Laude from Harvard University, and then went on to graduate with High Honors from Yale School of Medicine, where he was inducted into the Alpha Omega Alpha Honor Society. While at Yale, Dr. Abraham received the prestigious Nicholas Giarman award for Cancer Research. He then returned to Harvard to complete an orthopaedic surgery residency, where he was selected as the administrative chief resident for two consecutive terms. He went on to pursue his orthopaedic oncology fellowship at Harvard, based at Massachusetts General Hospital and Children's Hospital Boston. Dr. Abraham was then elected to the faculty of the Dana Farber Cancer Center, one of the leading sarcoma centers in the world, where he served as their primary orthopaedic oncologist for five years, gaining tremendous experience dealing with very difficult and advanced sarcoma and orthopaedic oncology problems. During this time, he was also a member of the arthroplasty service at the Brigham and Women's Hospital of Harvard Medical School in Boston, and developed significant expertise in joint replacement procedures and advanced revision procedures for failed hip and knee replacements. Dr. Abraham developed particular expertise in dealing with extensive bone loss of the pelvis, and has become one of the nation's leading surgeons utilizing custom-made patient-matched implants for acetabular reconstruction in patients with massive bone loss from failed prior hip surgery. Dr. Abraham also performs routine hip and knee replacements and revision hip and knee replacements for his patients.
Dr. Abraham developed Rothman Orthopaedic Institute's Sarcoma and Orthopaedic Oncology Center and then served as the director of the Jefferson Musculoskeletal Oncology Center at the Kimmel Cancer Center. He has served as chief of Rothman Orthopaedic Institute Orthopaedic Oncology Service for nearly 10 years, during which time he was an associate professor of Orthopaedic Surgery and Radiation Oncology at Thomas Jefferson University.
Dr. Abraham has published numerous scientific articles and book chapters, and has been invited to lecture both nationally and internationally on sarcoma, with a particular research interest in difficult pelvis sarcoma problems, and revision acetabular joint reconstruction. He has been named a Top Doctor by Philadelphia Magazine every year for nearly the past 10 years, and is named in America's Best Doctors list, along with numerous other accolades and honors. He is a member of the Musculoskeletal Tumor Society and the Connective Tissue Oncology Society.