Capital Health Cancer Center works closely with Rothman Orthopaedic Institute's Orthopaedic Oncology team to focus on the treatment of primary cancers of the extremities, known as bone and soft tissue sarcomas, and other types of cancer that spread to the skeleton. The physicians from Rothman Orthopaedics focus solely on orthopaedic oncology and span across Philadelphia, New Jersey and New York.
Sarcomas are made up of cancers that start in the extremities with examples including cancers that start in bone, cartilage, muscle, nerves, and fat. There are nearly 100 different types and subtypes of sarcoma and our orthopaedic oncology specialists are experts in the management of all types of this disease.
Cancer that starts in other parts of the body (such as the breast, prostate, lung, kidney or thyroid) can often spread to bones—which can cause pain at first—but if the cancer in the bone gets large enough, it can cause the bone to break without trauma, called a pathologic fracture. Pathologic fractures can be extremely painful and have difficulty healing without surgery and radiation therapy. In addition, they can cause significant delays in care of the overall cancer. For this reason, specialty expertise in orthopaedic oncology is critical for the appropriate management of skeletal lesions from all types of cancer.
Rothman Orthopaedics handles the largest volume of these rare tumors in the Mid-Atlantic region—and now this service is available here at the Capital Health Cancer Center. The orthopaedic oncologists at Capital Health Cancer Center and Rothman Orthopaedics are national leaders in the management of these conditions. Capital Health Cancer Center is accredited by American College of Surgeons' Commission on Cancer. With our partnership, patients receive the highest quality of care from nationally recognized health care institutions.
Treatment Options
For sarcomas that begin in the extremities, the treatment goal is for complete removal whenever appropriate. This often requires a multi-disciplinary approach involving specialists from orthopaedic surgery, radiation oncology, medical oncology, pathology and radiology. Capital Health is proud to have the only Sarcoma Oncology program in the region that can handle these rare and potentially devastating tumors. Surgical techniques include limb salvage surgery, in which difficult tumors can be removed and the limb reconstructed using advanced techniques, such as endoprosthetic replacements. This allows both optimal resection of the tumor and maximization of limb function.
In patients who have cancer that has spread to the bone, the goal is to prevent pathologic fracture and limit pain. This is accomplished by carefully studying the lesions in the bone as the treatment progresses and making sure that patients who present a risk of fracture are treated before they cause a problem. While surgery is the most common form of treatment, patients may also receive radiation therapy or chemotherapy. Treatments may be applied individually or combined as part of an overall care plan.
Surgical services offered include:
Sarcoma resection
Bone sarcoma – a rare and aggressive form of cancer that typically occurs in the extremities and pelvis. Surgery concentrates on limb-sparing techniques and bone/joint prostheses to optimize the patient's function after surgery.
Soft tissue sarcoma – tumors that affect connective tissue and can occur anywhere in the body. Complete removal of the tumor reduces the risk of cancer spreading to other parts of the body. Advanced plastic and reconstructive surgical options are offered when necessary to reconstruct blood vessels, nerves, and soft tissues.
Prophylactic fixation – a minimally invasive procedure in which metal is inserted in to a bone containing a lesion to strengthen it and prevent breaks. This procedure can reduce pain, prevent complications associated with fracture, maintain mobility, and prevent major delays in overall cancer treatments for patients.
Joint revision - the replacement of joints that have failed as the result of cancer or even routine joints which have failed due to significant bone loss. May include semi-custom or custom implants to meet the patient's specific needs.
Fracture repair – for complex fractures, this type of surgery uses metal pins, rods, screws, or plates to hold the damaged bone in place.
John A. Abraham, MD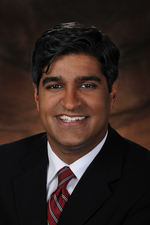 Dr. John A. Abraham is the founder of the Orthopaedic Oncology Service at Rothman Orthopaedic Institute. He is a nationally recognized orthopaedic oncology surgeon and has 15 years of experience in dealing with bone and soft tissue sarcomas and metastatic cancer to the skeleton.
Dr. Abraham graduated Magna cum Laude from Harvard University, and then went on to graduate with High Honors from Yale School of Medicine, where he was inducted into the Alpha Omega Alpha Honor Society. While at Yale, Dr. Abraham received the prestigious Nicholas Giarman award for Cancer Research. He then returned to Harvard to complete an orthopaedic surgery residency, where he was selected as the administrative chief resident for two consecutive terms. He went on to pursue his orthopaedic oncology fellowship at Harvard, based at Massachusetts General Hospital and Children's Hospital Boston. Dr. Abraham was then elected to the faculty of the Dana Farber Cancer Center, one of the leading sarcoma centers in the world, where he served as their primary orthopaedic oncologist for five years, gaining tremendous experience dealing with very difficult and advanced sarcoma and orthopaedic oncology problems. During this time, he was also a member of the arthroplasty service at the Brigham and Women's Hospital of Harvard Medical School in Boston, and developed significant expertise in joint replacement procedures and advanced revision procedures for failed hip and knee replacements. Dr. Abraham developed particular expertise in dealing with extensive bone loss of the pelvis, and has become one of the nation's leading surgeons utilizing custom-made patient-matched implants for acetabular reconstruction in patients with massive bone loss from failed prior hip surgery. Dr. Abraham also performs routine hip and knee replacements and revision hip and knee replacements for his patients.
Dr. Abraham developed Rothman Orthopaedic Institute's Sarcoma and Orthopaedic Oncology Center and then served as the director of the Jefferson Musculoskeletal Oncology Center at the Kimmel Cancer Center. He has served as chief of Rothman Orthopaedic Institute Orthopaedic Oncology Service for nearly 10 years, during which time he was an associate professor of Orthopaedic Surgery and Radiation Oncology at Thomas Jefferson University.
Dr. Abraham has published numerous scientific articles and book chapters, and has been invited to lecture both nationally and internationally on sarcoma, with a particular research interest in difficult pelvis sarcoma problems, and revision acetabular joint reconstruction. He has been named a Top Doctor by Philadelphia Magazine every year for nearly the past 10 years, and is named in America's Best Doctors list, along with numerous other accolades and honors. He is a member of the Musculoskeletal Tumor Society and the Connective Tissue Oncology Society.