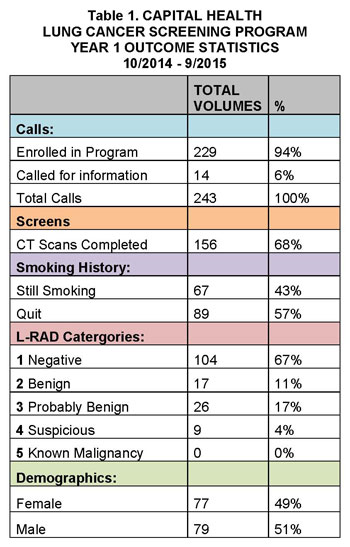 In October 2014, after months of planning, Capital Health implemented its Lung CT Screening Program. The program was initiated in light of the results of the Lung Cancer Screening Trial (2011) and the recommendation guidelines published in 2014 by the National Comprehensive Cancer Network (NCCN) and the US Preventive Services Task Force (USPSFT). Lung screening was recommended for those with a heavy smoking history as they are at high risk for developing lung cancer. The Lung Cancer Screening Trial demonstrated that low-dose CT screening can significantly reduce lung cancer mortality rates.
Capital Health's Lung CT Screening Program was planned and implemented by a multidisciplinary team of clinicians and professionals from oncology, radiology and pulmonary medicine. As part of the program, a patient navigator helps guide patients through all aspects of the program – prescreening, screening and follow-up. Patients and their referring physicians are sent written reports of the screening results using the L-RAD lung nodule tracking system. The L-RAD reporting system is used by radiologists to describe and categorize the findings of the CT screening. In addition, all patients with an L-RAD of 4 or 5 are presented at a multidisciplinary case conference to review their plan of care.
As a result of this endeavor, Capital Health's Lung CT Screening Program began on October 10, 2014. Within the first year, 229 people enrolled in the program and 156 (66%) received a screening CT (Table 1). The majority of patients screened were classified as L-RAD 1 (Negative Screen), L-RAD 2 (Benign Screen) or L-RAD 3 (Probably Benign). Nine patients (6%) were L-RAD 4, thus their results were classified as suspicious and required further follow-up.
Table 1 (above) depicts the number of calls and screens by month over the first 12 months of the program.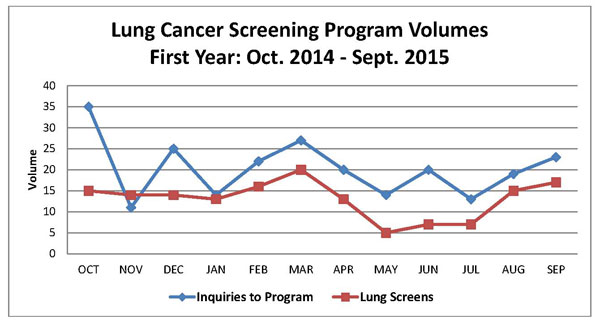 New patients continue to enroll in Capital Health's Lung CT Screening Program. In addition, it is recommended that at-risk patients have an annual CT lung screening.