Walter J. Curran, Jr., MD, FACR, FASCO
Executive Director, Winship Cancer Institute of Emory University
Atlanta, GA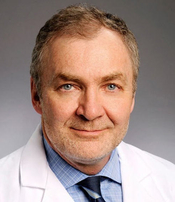 Dr. Curran is the executive director of the Winship Cancer Institute of Emory University, the first and only National Cancer Institute-designated comprehensive cancer center in the state of Georgia. He also serves as the Lawrence W. Davis Professor and Chairman in Emory's Department of Radiation Oncology. Dr. Curran has been a principal investigator on many National Cancer Institute (NCI) grants and is considered an international expert in the management of patients with locally advanced lung cancer and malignant brain tumors. He currently serves as a group chairman and a principal investigator of NRG Oncology, the largest of the five National Cancer Institute-funded clinical trials network groups.
Dr. Curran is the first radiation oncologist to serve as the director of a National Cancer Institute-designated cancer center. He is the only individual currently serving as director of an NCI-designated cancer center and as group chairman of an NCI-supported cancer network group. He was also named a Georgia Research Alliance Eminent Scholar and Chair in Cancer Research in 2013. Dr. Curran is a Fellow and Gold Medal Recipient (2016) in the American College of Radiology. He is a Fellow of the American Society of Clinical Oncology and is a standing member of NCI's Clinical Trials Advisory Committee. Serving as a member of the external scientific advisory committees of three NCI-designated comprehensive cancer centers (Siteman CC at Washington University, Yale Cancer Center and Moffit Cancer Center) and two developing cancer centers (University of Florida and Stevenson CC at University of Oklahoma), Dr. Curran is ranked among the top 10 principal investigators in terms of overall NCI funding in 2013 and among the leading 20 investigators in terms of overall NIH funding as principal investigator in 2013.
Before joining Emory, Dr. Curran was professor and chairman of Radiation Oncology at Thomas Jefferson University in Philadelphia and clinical director of Jefferson's Kimmel Cancer Center.