Orthopaedic Spine Surgeon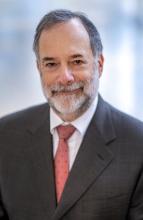 Dr. Tydings is a board certified, fellowship trained orthopaedic surgeon specializing in spinal surgery. He treats patients who are experiencing any of the full range of spine conditions, including spinal injuries, tumors, infections, sacroiliac disorders, and degenerative conditions of the cervical, thoracic, and lumbar spine.
Beginning his career as the first fellowship trained spine surgeon in Mercer County, Dr. Tydings has nearly three decades of experience in the diagnosis, nonsurgical management, and surgical treatment of all conditions affecting the spine. He comes to Capital Health from private practice in Lawrenceville and Freehold, New Jersey.
Dr. Tydings received his medical degree from Albany Medical College in Albany, New York. He completed his internship and residency in Orthopaedic Surgery at the Albany Medical Center and was fellowship trained in spine surgery at the K.D. Leatherman Spine Center in Louisville, Kentucky.
Dr. Tydings is a member of the American Academy of Orthopaedic Surgeons, the North American Spine Society, the American College of Surgeons, and a number of regional medical societies and associations.
Click here for a list of accepted insurances at the Capital Institute for Neurosciences.