Capital Health hosts several special events throughout the year. The dollars raised from our special events help to support the growing health care needs of our community.
Through events new relationships gained and existing relationships strengthened. Additionally, event participation offers a wonderful opportunity to advertise your business' charitable support to the community.
Please call 609-303-4121 or email [email protected] if you are interested in organizing a fundraiser with the proceeds generated to benefit Capital Health.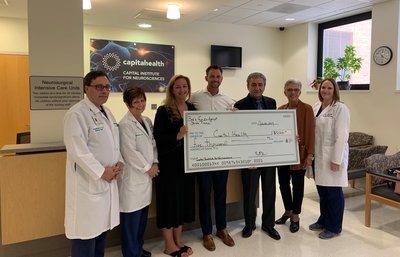 On Friday, July 26, 2019 Bob's Funds Against Stroke Trauma presented a check in the amount of $5,000 benefiting the Capital Institute for Neuroscience. The check was presented by Rob and Tracy Jaouen who are the son and daughter of Bob Jaouen. In their father's memory, the Jaouen's established the non-profit, Bob's Funds Against Stroke Trauma. The organization hosts an annual memorial golf tournament, Strokes for Strokes and in 2019 the proceeds from the tournament were donated to Capital Health.