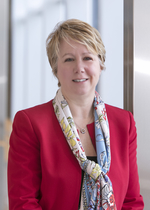 President and Head of U.S. Commercial
Bristol-Myers Squibb
Susan is President and Head of U.S. Commercial at Bristol-Myers Squibb (BMS). Appointed to the role in October 2018, Susan has national oversight and financial responsibility of an organization delivering $12B in revenue annually. Susan leads more than 2,500 employees striving to bring to patients transformational medicines from the company's oncology, cardiovascular, and immunoscience portfolios. Her role also encompasses engaging with health care policy and advocacy stakeholders , where her focus is on ensuring patients have affordable access to innovative medicines.
During her 22-year tenure at BMS, Susan has held a number of senior leadership roles. Most recently, Susan was the Senior Vice President and Head of BMS Worldwide Commercialization, a broad-scale global role where she led global brand teams; international access and pricing; and worldwide company and customer operations. Prior to that, Susan served as the CEO Operations Lead where she collaborated with the CEO and Leadership Team in advancing BMS priorities and executing the company strategy.
Susan's career with BMS also includes serving as U.S. Vice President, Cardiovascular Franchise, where she led the successful and sustained growth of Eliquis, which is one of the most-prescribed medicines in the world. She also has led other marketing teams as Vice President, Marketing Diabetes Franchise; Vice President, U.S. Plavix and Avapro/Avalide Marketing; Executive Director, U.S. Orencia Marketing; and Executive Director, Apixaban Global Marketing. Early in her tenure, Susan served as the Global Marketing Lead for the Orencia launch; Director of Edifoligide and Tequin; and Senior Manager for Abilify and Managed Healthcare.
Susan received a BA from Gettysburg College and an MPH from Columbia University Mailman School of Public Health.