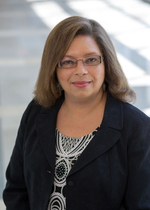 Medical Director of Radiation Oncology Services
Capital Health
Dr. Shirnett Williamson is the medical director of Radiation Oncology Services at Capital Health. She completed her undergraduate studies at McGill University in Montreal, Canada with Bachelor of Science degrees in Mathematics/Computer Science and Anatomy. After receiving her medical degree from Howard University College of Medicine in Washington, D.C., she completed her internship in internal medicine at Franklin Square Hospital in Baltimore, Maryland and her residency in radiation oncology at Thomas Jefferson University Hospital in Philadelphia, Pennsylvania.
Dr. Williamson served as a clinical assistant professor of Radiation Oncology at the University of Pennsylvania School of Medicine while being employed by Capital Health afterwards between 1996 and 2005. Following her development of the Department of Radiation Oncology at the Charlotte Kimelman Cancer Institute in the U.S. Virgin Islands in the Caribbean in 2008, Dr. Williamson returned to Penn Radiation Oncology and Capital Health. She is an active participant in educating the community on many cancer topics as well as an active participant in research trials at Capital health and authoring several publications. She has been nominated as a Top Doc several times in her specialty with the latest in Sept 2021 in South Jersey Magazine.
After separation from the University of Pennsylvania in 2010, she remained the medical director of Radiation Oncology Services at Capital Health, overseeing radiation oncology, CyberKnife, and brachytherapy. She is a former president of the American Cancer Society board of Managers for Mercer County and the current chair of the Cancer Committee at Capital Health.