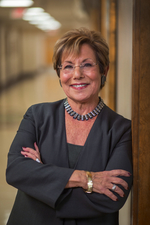 Vice Chair, Capital Healthcare Corporation
Board of Trustees
Appointed to the Capital Health Board of Directors in 2002, Nancy Becker served as chair of the board from 2005 to 2019.
Becker was the founder, president and guiding force for 30 years behind the independent public affairs consulting firm, Nancy H. Becker Associates. As the first woman lobbyist in Trenton, she oversaw the firm's government affairs and public relations practices. After she sold the firm, she worked at the Eagleton Institute of Politics, Rutgers University, at the Center on the American Governor. She also serves as a visiting associate at Eagleton.
Previously, Becker served as vice chair of the New Jersey Turnpike Authority, chair of the Board of the American Repertory Ballet and on the boards of Rider University, Greenwood House, the New Jersey Conservation Foundation, the Mental Health Association of New Jersey, the Community Advisory Board of NJTV and the New Jersey Economic Development Authority.
In addition, she was a founder of the Christine Todd Whitman Excellence in Public Service program, which provided leadership development for Republican women.
Becker received a TWIN award from the Princeton YWCA, the Barbara Boggs Sigmund Award from the Women's Political Caucus of New Jersey and an award from the New Jersey Association of Women Business Owners. She was recognized by the New Jersey Legislature as an outstanding woman in New Jersey.
Becker is a graduate of the University of Michigan and holds a master's degree in English literature from Manhattan College. She authored A Handbook on Lobbying that was developed for the Center for the American Woman and Politics at Rutgers University.