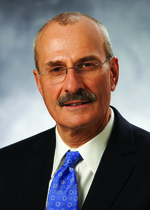 Dr. Louis F. D'Amelio joined Capital Health in 1999 to lead the system's highly acclaimed trauma program at Capital Health Regional Medical Center. This culminated in a $10 million dollar naming grant from the Bristol-Myers Squibb Foundation in 2010. He has a long background as a surgeon, educator, researcher, and physician executive. He received his medical degree from Jefferson Medical College in Philadelphia in 1983. In addition to his surgical and critical care training, he has completed fellowships in clinical pharmacology and trauma research. He retired as vice president of Clinical Performance at Capital Health in 2022.
Dr. D'Amelio is board certified in surgery and critical care by the American Board of Surgery. He is a fellow of the American College of Surgeons and a member of a number of academic societies in surgery, including the American Association for the Surgery of Trauma and the Society of Critical Care Medicine. He is the author of numerous papers and book chapters covering a variety of topics in trauma, critical care, and surgical education. Dr. D'Amelio leads numerous hospital, state, and national committees related to trauma care and patient safety. He serves as a national lead trauma surveyor for the American College of Surgeons.
Throughout his tenure at Capital Health, Dr. D'Amelio has taken on increasing medical staff and administrative leadership roles. He served as the longtime chairman of the Department of Surgery and chaired the Professional Practice Committee for more than a decade. He joined the Capital Health System Hospital Board of Directors in 2007, and he has been a founding member of the Capital Healthcare Corporation Board of Trustees since 2017.
Dr. D'Amelio transitioned from surgical practice to join Capital Health's senior management team in January 2017. As vice president of Clinical Performance, he oversees quality and regulatory affairs for the system and works closely with the senior vice president of Hospital Administration and chief medical officer on operations and medical staff affairs. His current objectives include engraining management engineering processes and culture change at Capital Health to drive the organization as a leader in high reliability health care.