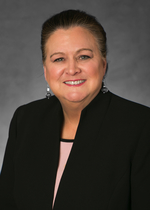 Director of Palliative & Supportive Care Team, Capital Health
President of the Capital Health Medical Staff
Dr. Gaukler has been a primary care physician in Mercer County with a focus on geriatric medicine for almost 30 years. She became the director of Palliative and Supportive Care at Capital Health in 2009, and since that time, she has led our dedicated hospital-based team to help patients and their loved ones make informed decisions to achieve the best quality of life when dealing with serious, life-threatening illnesses. Under Dr. Gaukler's leadership, Capital Health received national certification for palliative care from The Joint Commission in 2018, becoming the first program of its kind in the region to earn this distinction.
Dr. Gaukler is board certified in internal medicine and hospice and palliative care medicine. In addition to practicing inpatient palliative care at Capital Health, she maintains a limited internal medicine practice at Capital Health Primary Care - Ewing.
Dr. Gaukler received her medical degree from Temple University School of Medicine in Philadelphia, PA and completed her post-graduate training at Cooper University Hospital in Camden, NJ.
Dr. Gaukler has participated in educational programs both within Capital Health and the community at-large. She was named the winner of the 2019 Physician of the Year Award from the NJBIZ Healthcare Heroes Awards program.